FAQ
Frequently Asked Questions
Q: Do you video everyone?
A: Yes, we try to video everyone in all parts of your weekend. (ie. Dressage, Cross Country, Show Jumping, Jogs ect.)
Q: Can I order my video from a previous show?
A: Yes. We try to keep shows for one year or longer. It may take a while to get your video if you didn't order at the show as we edit current shows as a priority. Please email info@rideonvideo.com to see if we have your previous show video available.
Q: How long does it take to get my video?
A: Videos ordered at the show should take 7 - 10 days to be uploaded to RideOnVideo.net and you should receive your DVD or USB drive 2 - 3 weeks after the show. If you order 5 or more days after the show, this could take longer as we may be at or editing another show.
Q: I watched my cross country video and all the questions were not there.
A: We try to video 100% of the course but, only promise 80%. In a perfect world all horses run at 2 minute intervals at the meters per minute for the course. Sometimes this does not happen due to refusals on course or riders running very fast or slow. Also, we are slaves to the electronics in our cameras. Electronics sometimes fail. Although this is rare, it does happen. If we miss part of your video due to a camera issue, we will gladly refund that portion of your ride.
Q: Can I get photos from my videos?
A: YES! If you order your videos on a USB Drive, Just play the video on your computer and take a screen shot. If you ordered a DVD you can still get a screenshot online. Just select HD for the video quality. Pause your video where you want to grab a photo. Capture a screen image from your computer. It's that easy.
Q: Is your site secure?
A: YES! All forms and information you send from our site has 2048 bit encryption.

Q: Can I download my video from the web?
A: YES! From your Mac or PC Open or Download Firefox web browser. Under the "Tools" menu select "Add-ons". Search for "Download YouTube Videos" a ton of Add-ons will show up. Install the Add-on of your choice and go to Youtube.com/rideonvideo and search for the video you would like to download. Follow the instructions for your YouTube download Add-on.
(Example: From the Download drop down menu I would download MP4 720P)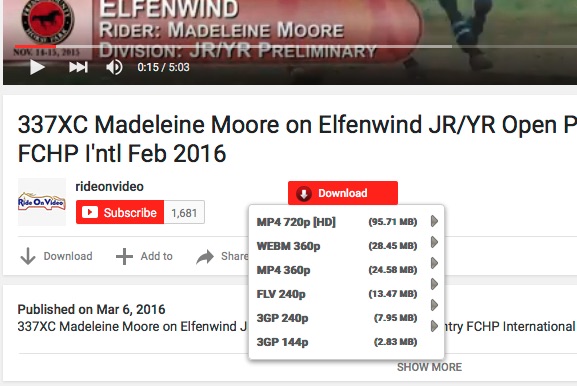 This will also work for most of the content on YouTube as well. Enjoy!
Q: How do I get my video Featured on the RideOnVideo.net home page?
A: First order your video. We try to choose up to 6 videos from the top 3 in the open divisions and our sponsored riders.
Web Video Issues:
Q: How do i find my video online?
A: For Ordered Videos the easiest way is to go to RideOnVideo.net and search your "last name". This should pull up all the videos you have ordered from every show with the most recent show at the top of the list.
If you can't find your video on RideOnVideo.net please try YouTube.com/rideonvideo.
If you did not order your video it will not be online.
Q: My video stops playing before the end of my video.
A: You may have a bad upload to YouTube. This is a new problem we are encountering with YouTube. Try hitting the "Refresh" or "Reload" button on your web browser and see if that fixes the problem. If you still have a problem please email info@rideonvideo.com and make us aware of the situation. We will be glad to re-upload your video for you.
Q: There is no audio on my video.
A: We use copywrited music on our videos. Most of the time you will see an ad at the bottom of your video. That is to pay for the royalties on the music we use. Sometimes, YouTube will allow the music to pass for several days and then say sorry nobody is allowed to hear this music on YouTube. We have no control over this situation and apologies for any inconvenience. The audio will be on your DVD you receive in the mail.
Q: YouTube won't play my video on my mobile device.
A: Sometimes YouTube blocks our videos due to music copyright issues. Please view your video at RideOnVideo.net from your smart phone or mobile device. We have programmed and installed a special mobile web app that should solve your problem.
Q: My video looks fuzzy when I play it on my phone.
A: Try downloading the Google Chrome web browser on your phone. The Chrome web browser seems to play videos in HD, at least on Android phones.